...whether you're a Christian or not. If you are, then they are very encouraging; if you're not, you'll find them interesting and thought-provoking, and in the case of the latter helpful.
Selected to Live by Johanna-Ruth Dobschiner


Adolf Hitler's birthday was a great event. It was April 1933 and all schools were invited to take part in the great parade. Our school ought its own token of respect ... gratitude, to such a leader.
Hansie Dobschiner was only twelve
when WWII broke out and fourteen - my age - when her whole family was taken away to a concentration camp. Through a series of amazing escapes and acts of salvation, she was able to avoid the claws of anti-Semitism that were raking Europe; after working on and off in hospitals, fostering her dreams of becoming a nurse, she eventually went into hiding in a farmhouse in the north of Holland. There, she found a copy of the New Testament and began to read, filled with interest and confusion as to what it was, and what it meant; often mentioned were the Jewish forefathers from her familiar Torah, but what place had they here? And slowly, in the stifling silence of her room in that secluded farmhouse, her life is changed forever...
Selected to Live was a great book. It is ultimately the story of God's amazing work in people's lives, and so it was very heartwarming and encouraging. But even if you're not a Christian, I would still recommend it; it is also the story of one girl's exciting escape from the Nazi regime. I think it would be fair to say that Dobschiner was less a writer and more an extraordinary person with a story to tell - it is a little stilted, but then you must remember that English is actually her third language. And anyway - it has a charming, relatable style even so. Overall I would say it's a very worthwhile read! :)
Compared to her... by Sophie de Witt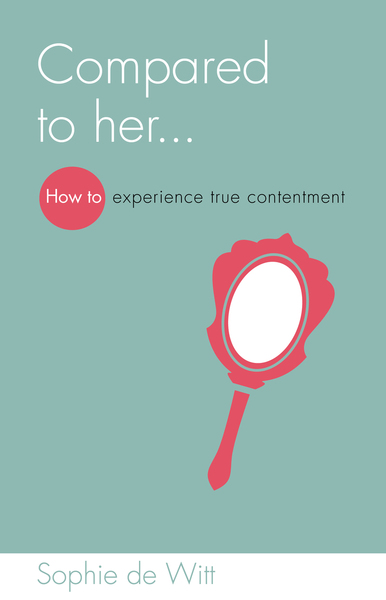 I am a recovering CCS sufferer. I'm not completely rid of it, though since recognising the problem, I've started to get better. And I know that one day, I'll be free of it. My CCS - or, to give it its full name, Compulsive Comparison Syndrome - will be a thing of the past.
But since realising I was suffering from this syndrome, I've started talking to other women about it; and I've discovered that CCS is far more widespread than I had ever imagined. If I described my symptoms to others, they realised they were struggling with a perspective dominated by CCS, too.
In fact, although I don't know you at all, I'm fairly sure that you have CCS. That's not meant to sound rude! I've just rarely met a woman that doesn't struggle with it.
How often do you compare yourself to the women/girls you see around the place? I'm willing to bet that the answer is Very Often Indeed. You're in the shopping centre and you spy someone your age ... all in one quick sideways glance you appraise their clothes, their hair, how pretty they are - you compare them to yourself, seeing if you come off better or worse. At school you compare exam results, essay marks, teachers' comments, drawings, designs .... and other things too, clothes, hair, parties, boyfriends. And if you're an older woman, maybe you're comparing your house, your husband, your children, to those of your husband. Let's be honest, girls. Even if it's only in small ways, I think we all do it - I think we all have CCS.
So what's the result of all these comparisons? Sometimes, you come off better. Your art homework is better than someone else's. You've done your make up better. Your group of friends is nicer and more stable. That makes you feel good, for a while ... but not truly contented. Instead you become proud, superior, arrogant, cruel. You lose your humility; you look down on the person in question. This comparison - which de Witt calls a 'looking-down comparison' - is ultimately harmful. On the other hand, you might come of worse. Someone else did better in their exam than you, even though you know you studied more. Her skin is clearer than yours. She's skinnier than you. She's more photogenic than you; you only have to look at her Facebook wall to see it. She always seems to have a boyfriend. You feel ugly, deficient, crushed, embarrassed - you are experiencing a 'looking-up' comparison, and it's lowering your self esteem and hurting you. In short, you have CCS, and it's dangerous - so what can you do about it?
In her short book Compared to Her..., Sophie de Witt explores all this. What causes CCS, how does it manifest itself, and what does it cause - and how can we get rid of it? I found this a helpful and accessible book, and I think you will too - it deals plainly with the facts whilst retaining a light, interesting tone that stops it from getting dry and boring - and gives some very good advice. Compared to Her... explores what the Bible says about comparison, and what God says about contentment and love. Even for a non-Christian, though, I think it is extremely relatable - after all, we are all comparing ourselves to each other all the time, no matter who we are - and helpful too. Overall I would highly recommend it - it won't take you long, but it will give you a look inside yourself and an insight in how to live more in the way God wants you to.
Love you,