My favourite thing about being a writer is you can talk about "plotting", meaning totally innocent working-on-your-story, and it sounds like you're an evil genius masterminding world domination.
OK. Maybe not my favourite thing. But close.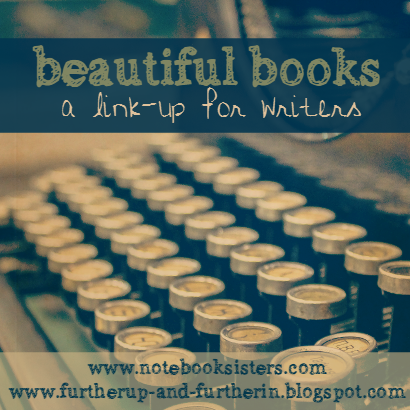 Today I'm linking up with Beautiful Books, the special NaNo edition of Beautiful People. I'm not participating in NaNo (I have homework, OK?!

And I'm mildly pathetic

) but if you are I'd love to hear about it!
1. What came first: characters or plot idea? Are you a plotter or a pantser?
Like all great ideas, the premise for my WIP came in the shower. I'd signed up for Camp NaNo, July 2013, with only 11 days to go and no novel idea. 2 days later, I was frantically coasting for a premise, and in the shower I was thinking about fairytale retellings. Thus, the Thrace family:
George, father: a merchant; his beloved wife died when their only daughter was a baby.
Aurelle, 17: George's very beautiful and talented daughter.
Patricia, mother: George's loud, avaricious second wife; after her first husband died she married George for money/security, whilst he married her as a mother for Aurelle.
Varissa, 18: Patricia's older daughter. Overshadowed by her younger, prettier stepsister.
Corrie, 15: Patricia's younger daughter. Likewise overshadowed by her older, prettier stepsister.
Do you recognise this fairytale?? This was my starting point, though after that there are no similarities to Cinderella. Anyway, to answer the question: characters came first. I am both a plotter and a pantser. I make extensive notes, but a lot of my ideas come whilst I'm actually writing.
2. Do you have a title and/or a "back-cover-blurb"?
No and no. I am pathetic.
3. What wordcount are you aiming for when your novel is finished?
I want to get to at least 80k; I'd be happier with 90, or 100. I don't know. Fantasy is a genre best served long, in my opinion.
4. Sum up your novel in 3 sentences.
Corrie, a teenage writer, is trying to escape to a better life when she enters the Gleaning to go to the capital city and the court of the Queen. But more is brewing in her country than she can imagine, and she is going to have to get some perspective as she realises that she is part of something far, far bigger. This is (hopefully) a kinda coming-of-age-ish story, with (hopefully) themes of the progression from naivety to understanding, and the development of empathy.
5. Sum up your characters in one word each.
I am rubbish at this question. How does one condense an actual human being into one word?? Corrie, Freddie and Jem could probably all be described as "searching" - they're all searching for something, for someone, for a different way. Not sure about Mel, though.
6. Which character are you most excited to write? Tell us about them!
JEM! He's not easy to write - unlike Freddie and Mel, who are a breeze - but I love him. He's a messenger in the city. He does wood carvings. He is angry and damaged. He is kind and open and grounded. WE ALL LOVE JEM.
7. What about your villain? Who is he, what is his goal?
Oh-ho, SPOILER TERRITORY. There's a reason I didn't do BP last month, when it was the villain edition.
8. What is your protagonist's goal? And what stands in the way?
At the beginning, Corrie's long-term goal is to be a writer; then, in the short term, to be Selected. Now her short term goal is to find Vetch - read about that here. Standing in her way is, uh, the fact that Vetch is one fourteen year old girl in a big city and she's really difficult to find.
9. What inciting incident begins your protagonist's journey?
Well, the Gleaning. This is the seven-yearly competition in which teenagers can enter to be Selected, taken to the capital city and educated in the court of the monarch, to grow up to be members of the elite coterie/high society. This is where the novel begins.
10. Where is your novel set?
A fantasy country called Ivaria.
11. What are three big scenes in your novel that change the game completely?
1. The one I'm writing right now - oo-er - in which Corrie has a bit of an anagnorisis ..... OK OK I'll stop showing off fancy vocabulary. I'm studying Macbeth, OK?? He has a moment of anagnorisis. It means epiphany, or a moment of clarity/realisation. Technically they're for tragic heroes and they only have one, so it's not really relevant to this context, but whatever. In this scene, Corrie has a revelation about the state of things in her country when she sees a dying woman in the street.
2. The Scene in the Cabin in the North (not yet written). In this scene, Corrie further realises that things are not what she thought - that someone she thought was her enemy wants to help her, and someone she thought was her friend really doesn't.
3. The Last Dramatic Cliffhanger Scene. Final anagnorisis for Corrie (in this book, at least) as a very big secret is revealed to her.
12. What is the most dynamic relationship your character has? Who else do they come in contact with or become close to during the story?
Ooh. That's an interesting question, because "dynamic" is not the same as "close". Corrie has three best friends, Mel, Jem and Freddie, all of whom she meets in Teyvanidan. However there is also her relationship with the Queen, Jacinthe; she kind of idolises her. Then there is her relationship with her stepfather, stepsister and sister. Whilst she doesn't get on very well with her sisters, these family relationships have definitely shaped who she is.
13. How does your protagonist change by the end of the novel?
WELL. Her perspective changes a lot; she loses a lot of her naivety/self-absorbedness that she has at the start. She realises that there are more important things in life than the things that used to preoccupy her, and she becomes a lot more comfortable with herself a) as influenced by her friends and b) because she realises that actually, it's not all about her and other people aren't judging her nearly as much as she used to think.
14. Do you have an ending in mind, or do you plan to see what happens?
I do. Mostly. Um. Sort of. There's a big reveal (as mentioned in question 11) that takes place, but there's this other big reveal, and as yet I've not worked out whether it's even coming in this book or (whisper it) the sequel.
15. What are your hopes and dreams for your book? What impressions are you hoping this novel will leave on your readers and yourself?
Obviously my hopes and dreams are that it will one day be published, fangirled over, shipped, reviewed with ALL-CAPS because I have fans who just TOO EXCITED and use extreme reaction gifs like
I want to see my books on "best books I read this year list"; I want them to be listed among favourites and displayed on bookshelves. Hopefully, I want to, just a little bit, change my readers' view of the world.
However, these are the wishful longings of every author-in-training. Realistically, my goal for this book? Get it finished. I don't know how this will affect me as a person

(this is my first novel, so I don't know what it's like to finish one)

but that is the plan.
SO: did you participate in Beautiful Books? Tell me, and I'll find you on the link-up! Now, check out my new way of ending posts .... by talking about books! (New on this blog, eh? Not.)
Emily x
PS I am aware that my fonts don't match. These things will be fixed.