Well do I remember discovering, last year, that there was going to be a new Harry Potter story.
I was so excited! More Harry! Ron! Hermione! Hogwarts! The story we thought was over, continuing!
This buzz of excitement continued for months and months. As the 31st of July, the release date, approached, it filled me still ... didn't it?
On the 1st of August I got to Waterstones, where Harry Potter decorations covered the shopfront. I went to where the book sat, stacks and stacks of copies, on a table right by the door. Hundreds more copies were lined behind the tills, replenishing the stock as hoards of hungry Potterheads came in brandishing their tenners.
I didn't buy it.
What, what?!
There is a new Harry Potter book and I am yet to buy it. There is a new Harry Potter, and I have not ripped it apart with my ravenous jaws.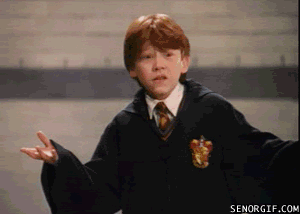 You're shocked. I'm shocked. Ron's shocked. We're all shocked. But let me explain to you why I have qualms about The Cursed Child.
The thing I hadn't realised before I picked the book up is that it isn't by JK Rowling. On the cover it says "JK Rowling" in massive letters, but on closer inspection: "Based on a new story idea by JK Rowling. // A new play by Jack Thorne". Wait a minute. Who the frick frack is Jack Thorne?!
I'm not that into fanfiction. There are many reasons for this. The main one is that, as a writer, the thought of someone else writing about my characters makes me almost physically nauseous. They say "the book belongs to the reader", and I totally believe that readers can find things in books that the author may not have known themselves; the reader can keep imagining the word beyond the page. Of course, that's a good thing, because we love stories and want to keep them in our hearts. But there's a difference between treasuring a particular book and thinking about it ... and publishing a book which you're calling "Harry Potter #8". Personally, I don't see how Jack Thorne can make the decisions about what JK Rowling's characters are doing, thinking and saying; how he can call the shots on what's going on in her world.
Of course, we've got to try and see it from JK Rowling's point of view. She loves Harry Potter. She has created a vast, incredible world that has now been in her mind for decades, and it's incredibly hard to let go of that. I would be amazed, perplexed, even aggrieved if I thought that, following Deathly Hallows' publication in 2007, she wasn't still thinking about her characters and her world. She knows them. She has a relationship with her characters -- not of a creator to some sort of AI, but of equals in a journey, discovering a story. Sometimes characters take years to reveal things to you. But should she share this with the fans?
I found an interesting quotation from Maggie Stiefvater on this topic:
"Some people come up to me and ask me to give them material outside the books — for instance, what is Gansey's favorite ice cream flavor? I never respond to them. Personally, I think it's unfair — it rewards only some readers and not those who don't dig through all the archives to find the new little factoids."
She believes that canon exists only within the books, and the books are the source of all material for the readers. Outside that, all is conjecture. I understand what she means about being "unfair" to the readers ... but personally I'd quite
like
to know Gansey's favourite ice cream flavour
(mint? Or is that too obvious?)
and
I don't think sharing it would really be a problem.
Rowling's equivalent of this is Pottermore, the website she runs that gives you, surprise surprise,
more Potter,
and when "beta registration" started in 2011 I spent several stressful hours searching for magic quills and all the rest of it to gain one of the coveted million places as a beta.
(Which I did. Don't ever say I'm not committed.)
I've very much enjoyed the extra information that Rowling published on here (McGonagall's backstory!
My heart!
) -- because sometimes you can't get everything into the books. Sometimes you can't give all the myriad details of a character's backstory.
And why not share that with your fans, when they love those characters?
But is there a difference between backstory and the future? McGonagall's Scottish childhood is one thing; to me, an adult Harry Potter is another. Such details as can be found on Pottermore are complementing the world we already know and love. The Cursed Child is continuing that world, nineteen years later. And now, whenever I read that "all was well" ... can I truly believe it? For The Cursed Child even to have a story -- I don't know what that story is about, but it's there -- there must be conflict. So how can all be well? In the publication of this book, have we been robbed of the closure of the end of the series?
I honestly don't know where I come down on this one.
Increasingly I feel that JKR should not be messing her fans around by telling us that all was, in fact, not well. Part of art is knowing where to stop. But of course, I have a
soul-deep and unfailing devotion to Rowling and to Potter
and part of me is unable to believe that any book published in Harry's name could be other than a good thing. Moreover, I believe that, if I do read
The Cursed Child
and I don't like it, my love for Potter is too strong to be marred; the perfection of those seven books cannot be broken by what goes on
outside
their pages.
Nonetheless, I'm perturbed, and I don't know whether I want to read The Cursed Child.
[source]
Have you read it? What did you think? Is further information about books canon, or should an author keep it to themselves? (Also, while we're on the topic, what's your favourite HP? Mine's Order of the Phoenix.)